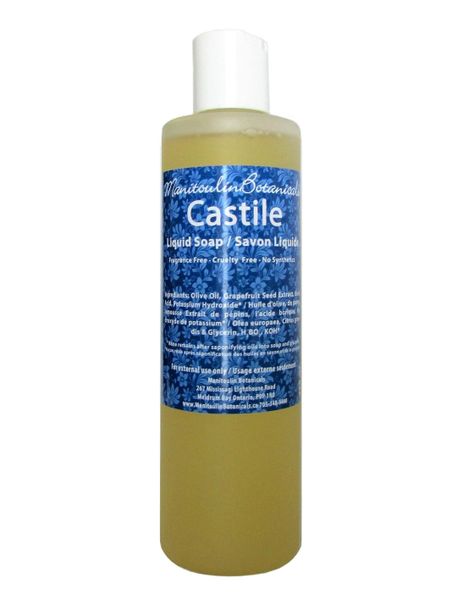 Castile Soap
As of November 27, 2019 our products will ONLY be available on our Etsy store Manitoulin Botanicals  and this website will be discontinued.
For multiple items ordered, we can adjust shipping & handling charges, Please send a message so that we can give you a quote.

250 ml (8.45 oz) bottle ~ Hand Crafted, 100% Vegan, Cruelty Free, Gluten Free, Petrochemical Free, No Synthetics
This soap is named for the Castile region in Spain where it originated. Made with 100% Olive Oil, this soap is very thick and rich. It has no added fragrance. If you would like to have it scented with an essential oil, please send me a message.
Safe for Babies Skin

Ingredients: Olive oil, Boric Acid, Grapefruit Seed Extract

Our liquid soaps are great to use on hands, face and body as well as a natural shampoo!