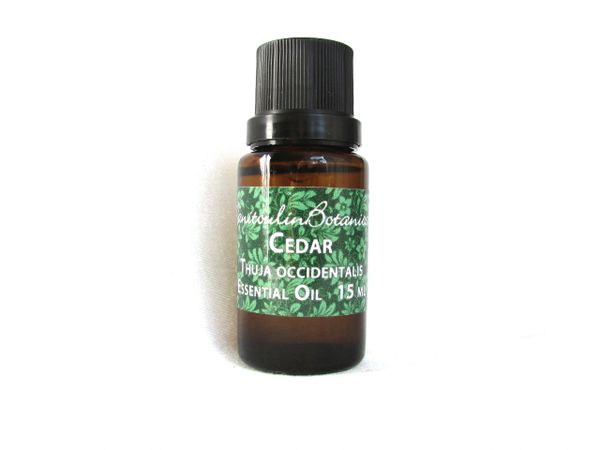 Cedar Essential Oil
As of November 27, 2019 our products will ONLY be available on our Etsy store Manitoulin Botanicals  and this website will be discontinued.
For multiple items ordered, we can adjust shipping & handling charges, Please send a message so that we can give you a quote.

15 ml (0.5 oz) bottle
Distilled by Manitoulin Botanicals from new growth of the Eastern White Cedar (Thuja occidentalis).

Cedar Essential Oil is antiseborrheic, antiseptic, antispasmodic, tonic, astringent, diuretic, emmenagogue, expectorant, insecticidal, sedative, and a fungicide.

It is known to help cure seborrhoea, heal wounds, fight spasms, cause contractions in the gums, muscles, tissues, skin and blood vessels, while increasing urination and the subsequent removal of toxins, water, salt and fat from the body. It also regulates menstrual cycles, cures coughs and colds, kills insects, sedates inflammation and nervous disturbances, and inhibits fungal growth and infections.

DISCLAIMER

The information presented here is intended for educational purposes only. These statements have not been evaluated by Health Canada and are NOT intended to diagnose, cure, treat or prevent disease.