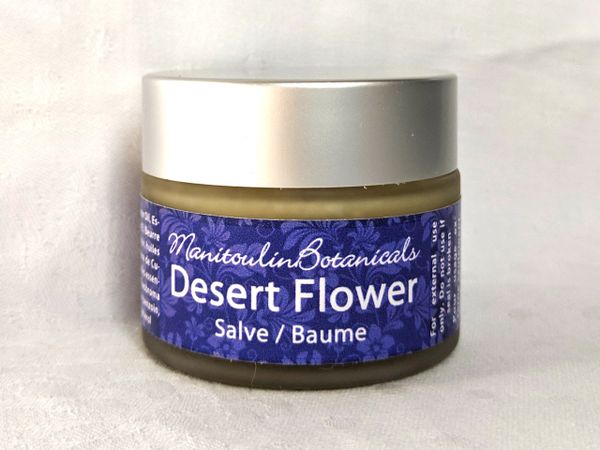 Desert Flower Salve
As of November 27, 2019 our products will ONLY be available on our Etsy store Manitoulin Botanicals  and this website will be discontinued.
For multiple items ordered, we can adjust shipping & handling charges, Please send a message so that we can give you a quote.

60 ml (2 oz) jar  ~ Hand Crafted, Natural & Vegan, Cruelty Free, No Petrochemicals, Gluten Free

Ingredients: Black Cumin Seed Oil, Castor Oil, Cupuacu Butter, Kokum Butter, Benzoin Essential Oil, Frankincense Essential Oil, Caraway Essential Oil, Vitamin E

*Protect this product from excessive heat and direct sun

Our skin is the largest organ in our bodies and what we put on our skin goes into us. 
Why should you use natural skin care products? Because they work. They're safe and won't load toxins into your body or onto our planet. But the other reasons ... they're more effective than the stuff full of chemicals which hurt ourselves and our planet.

This salve smells like cookies, vanilla, chocolate and coffee all at the same time. I love it so much I use it all the time, I even use it on my face - for my dry skin.

It is thought that the great prophet Mohammad said that seeds of the black cumin plant could cure anything but death itself. It does shrink skin tags and help clear up acne, rosacea and eczema as well as many other skin blemishes. Queen Nefertiti, renowned for her stunning beauty, used Black Cumin Seed Oil.
*Safe for Babies Skin

More Information

Black cumin seeds were found in the tomb of Tutankhamun. Black cumin seeds are mentioned in the Bible as well as in the words of the Prophet Mohammed.

The famous Greek physician Dioscorides used black cumin seeds to treat headaches and toothaches. Mohammed said that black cumin cures every disease but death itself. The reason might be found in the complex chemical structure of the seeds. These little seeds have over one hundred different chemical constituents, including abundant sources of all the essential fatty acids. 

With a seed containing so many constituents and having such a long ethnobotanical history, it is not surprising that many throughout the Mediterranean and Asia believe that black cumin is basically good for all that ails us. However, the claims are not outrageously far-fetched if one considers how complete the seeds are in terms of their many chemical constituents. 

One then wonders if the imagination of the poets has triumphed over the logic of scientists? Just remember: those paying homage to the black seeds of the Egyptian oases were praising the capacity of the seeds to restore normalcy, not cure. This is not unimaginable if the nutrients are sufficient to correct deficiency conditions.