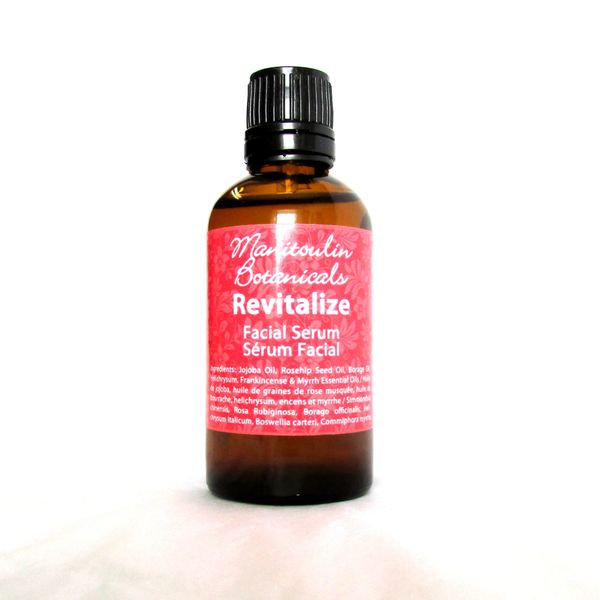 Revitalize Facial Serum
As of November 27, 2019 our products will ONLY be available on our Etsy store Manitoulin Botanicals  and this website will be discontinued.
For multiple items ordered, we can adjust shipping & handling charges, Please send a message so that we can give you a quote.
Revitalize  Facial Serum ~ Eliminates Small Lines, Tightens and Tones, Eliminates Sun Spots

50 ml (1 1/2 oz) bottle ~ Hand Crafted, 100% Natural & Vegan, Cruelty Free, No Synthetics, Gluten Free

Ingredients: Jojoba Oil, Rosehip Seed Oil, Borage Oil, Macadamia Nut Oil, Helichrysum Essential Oil, Frankincense Essential Oil, Myrrh Essential Oil

*Protect this product from excessive heat and direct sun

Cosmetic Serum is a highly concentrated product based on oil. Serums contain approximately ten times more of biologically active substances than creams, therefore quicker and more effectively coping with cosmetic problems.

Use nightly immediately after cleansing the skin.