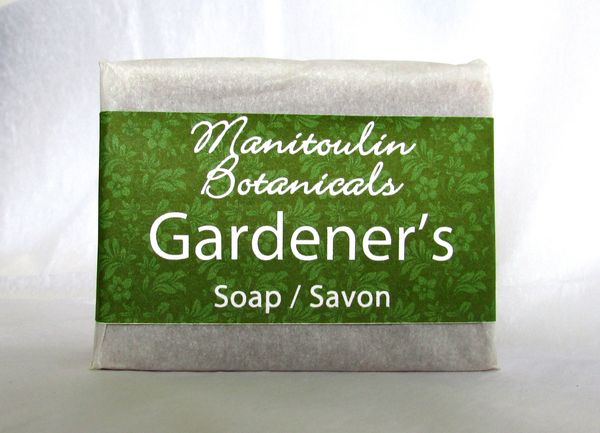 Gardener's Soap
As of November 27, 2019 our products will ONLY be available on our Etsy store Manitoulin Botanicals  and this website will be discontinued.
For multiple items ordered, we can adjust shipping & handling charges, Please send a message so that we can give you a quote.
100 gram bar
Hand wrapped in parchment paper. 

Our super moisturizing vegan soaps are hand crafted with vegetable oils. They are hard and last a long time if kept dry in between use. This soap will  gently cleanse your skin leaving it healthy & hydrated.

This is a wonderful exfoliating soap.
Ingredients: Coconut Oil, Olive Oil, Sunflower Oil, Babassu Oil, Castor Oil, Hemp Oil, Powdered Apricot Shell,  Rhassoul Clay, Lime & Grapefruit Essential Oils, Grapefruit Seed Extract