Hematite Bracelet with Blue Glass & Jet Beads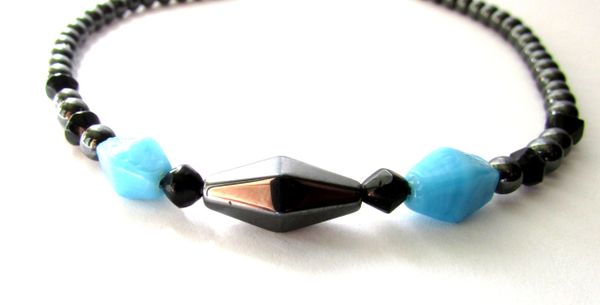 Hematite Bracelet with Blue Glass & Jet Beads
This listing is for the One of a Kind bracelet pictured here. 
When ordering, let me know what size you want the bracelet to be using the information in the chart pic posted, or measure your wrist.

Hematite activates the 1st Chakra, the root Chakra, absorbing negative energy.

Hematite can increase blood flow and circulation and thus speed up the healing process and alleviate pain. The human body contains a magnetic charge that is essential for it to function. Magnetic hematite is very good for arthritis and joint pain. 

Hematite helps to absorb negative energy and calms in times of stress or worry. Hematite is a very protective stone and is great to carry to help you stay grounded in many situations. Hematite helps to transform negative energies into a more positive vibration.

DISCLAIMER:

The information presented here is intended for educational purposes only. These statements have not been evaluated by Health Canada and are NOT intended to diagnose, cure, treat or prevent disease.