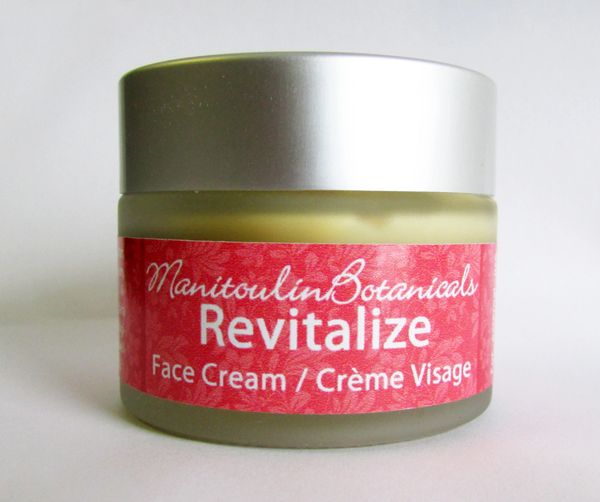 Revitalize Face Cream
As of November 27, 2019 our products will ONLY be available on our Etsy store Manitoulin Botanicals  and this website will be discontinued.
For multiple items ordered, we can adjust shipping & handling charges, Please send a message so that we can give you a quote.

Revitalize Face Cream ~ Fades Sun Spots, Eliminates fine lines, evens the colour & texture, firms & tones
This product  is our amazing Anti Aging Face Cream with a new name & label.
60 ml (2 oz) jar ~ Hand Crafted, 100% Natural & Vegan, Cruelty Free, No Synthetics, Gluten Free

Ingredients: Sweet Almond Oil, Pure Water, Mango Butter, Honey, Vanilla, Rose Hip Seed Oil, Beeswax, Sea Buckthorn Oil, Myrrh Essential Oil, Frankincense Essential Oil, Helichrysum Essential Oil, Vitamin E, Unbleached Sea Salt

*Protect this product from excessive heat and direct sun

This face cream smells absolutely fabulous and what it does for your skin is fabulous as well.  Rose Hip seed oil together with Helichrysum Essential Oil are tremendously anti aging. This cream will improve the condition of your skin, reduce the appearance of fine lines and wrinkles and will give you skin a healthy glow. It also has anti-inflammatory properties that reduce the appearance of wrinkles and puffiness.